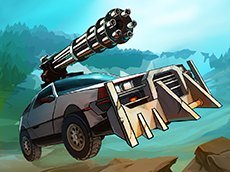 Zombie Derby 2 is a 2.5D fast action zombie car game. Player's goal is to use any vehicle and drive it so to overcome certain distance in the post-apocalyptic world full of zombies trying to kill him. Zombie Derby is similar to popular Earn To Die games.
The game combines game design of limited resources (fuel, ammo, health, money, abilities) with a challenging task to overcome very long distances on the road to safety on another planet (the game ends by onboarding the last car to the spaceshift). Games of this type are very popular and have huge user base. Find out why by playing the game.
Game features
9 cool upgradable vehicles
32 challenging levels

8 basic levels
8 extreme levels
9 halloween levels
6 delivery levels
1 survival level
3 ways to die

13 achievements
3 leaderboards
Zombie Derby 2 is one of premium games you can play on PacoGames. The game is developed by Ukraine based game studio BrineMedia. The game was made in cooperation with HeroCraft game publisher.
The game offers great graphics and addictive gameplayes for hours. Expected playing time from the start to the end of the game is 20 hours. There is possible to complete the whole game without need of any payment. Difficulty of web version of the game is lower compared with mobile version. The game is well optimized and should run smoothly on most computers.
Platforms