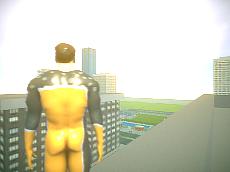 Super Strong Hero is a free 3d action-packed game which will let you experience a feel of a bad superhero destroying buildings, stealing cars, destroying them, but also doinggood stuff such as killing enemies.
Tasks in the game
Destroy 13 buildings
Destroy 9 cars
Steal 4 cars from the parking area
Kill 7 enemies
Become a superhero and save the city from the enemies. In the game, you can break down buildings, swim, shoot with a laser (right mouse button) and many more.