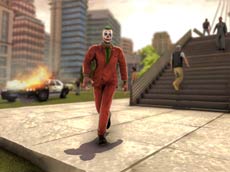 J.O.K.E.R IV is a 3D action GTA like game. The player will enjoy freedom, many weapons, cars and challenging missions. Earn money and visit the ammo shop with various weapons.
About Game
Joker is always here to make you laugh. You never get bored with him. Are you ready for another adventure? Explore the huge open world. You can do anything you want. Discover all corners of the map, fight with police, embark on some crazy adventures. If you are familiar with GTA games, you will like Joker as well. Many cars, ammo shops and missions are waiting for you! Have fun.
Game features
3D open world shooter with absolute freedom of action. Absolutely everything is under your control
Realistic HD graphics and high-quality 3D models. You will be delighted!
Awesome dramatic action missions that you will never forget
Machines for every taste! Sports cars, jeeps, old classics - choose whatever you want. Cars can be stolen, becoming the best car thief or buy in a shop
Perform side quests in street racing and become the best race car driver on the island!
Arm yourself to the teeth and become a professional mercenary. Perform armed contracts and robberies, divide the money between the gang members, or assign everything to yourself! You decide the player!